Quick timeline of development & family history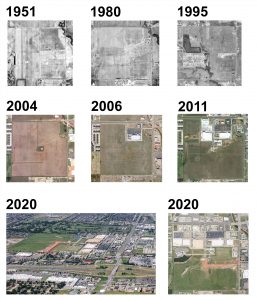 Significant events
Late 2010 – Inquiries from Dick's Sporting Goods
April 2010 – Teddy Bear Partners LLC closed on property sale to Target Corp.
January 2009 – Alton and Evelyn Fritts' dream home, built in the mid 1960′s, was removed.
November 2008 – Target postpones or cancels $1 Billion in planned new stores including the one at Fritts Farm.
September 2008 – Property is given to the City of Moore for a new fire station.  This fulfills Alton Fritts' pledge to give the property to the community made several years before  his death.   Property is just south of The Home Depot and east of Fritts Boulevard.
June 2008 – Terry and Jason Fritts attend Target CPR meeting in Minneapolis.
September 2007 – Alton L Fritts passed away.
June 2007 – First contact from Direct Development regarding a Target development.
November 2006 – Letter of Intent from Chick-Fil-A.
January 2005 – Letter of Intent from Home Depot.
Spring 2004 – Contacted by representatives from both Home Depot and Lowe's.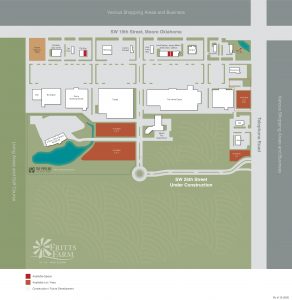 OPENINGS
July 2018 – Johnnies Charcoal Broiler opens off S Telephone Road
2017 – Potbelly opens at 780 SW 19th retail center
September thru October 2015 – Pie Five Pizza Co. and Pei Wei Asian Diner open at 750 SW 19th
August 2015 – Computer RX opens their approximately 50,000 SF 3-story headquarters office in our newest development called The Pipeline at Fritts Farm
March 2015 – Verizon opening at corner of SW 19th Street and S Telephone Road, 610 SW 19th
December 2013 – Dairy Queen opens the first OKC metro area DQ since the last 15 years
2013 – Del Taco opens first restaurant in Oklahoma at Fritts Farm!
October 30th thru Nov 2-4, 2012 – Dick's Sporting Goods, soft + grand opening
May 3, 2012 – Raising Cane's
March, April – 2012 – Fritts Farm Retail Center opens: Qdoba, Great Clips, Sprint, Orange Leaf, Jersey Mike's, LensCrafters
July 24, 2011 – TARGET officially opens for business after a ribbon cutting and soft opening on the 19th.
March 25, 2011 – Dedication of Moore Fire Station No. 1.
July 30, 2010 – Jack in the Box opened.
February 5, 2009 (Thursday) – Chick-fil-A opened.
November 9, 2006 (Thursday) –  Chili's Bar and Grill opened.
October 2, 2006 (Monday) –  Starbucks Coffee opened.
January 2006 – The Home Depot opened