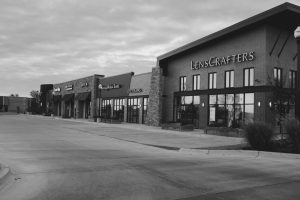 Our 660 Retail building is located at – you guessed it – 660 SW 19th Street, Moore, OK 73160
It's directly north of The Home Depot, between Jack in the Box and Chili's. It's located in what we call informally the Fritts Farm East development (Home Depot anchor) and the Fritts Addition plat.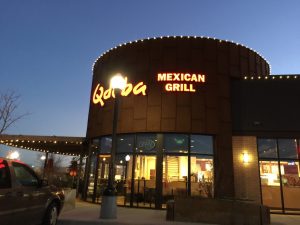 It's approximately 13,000 SF mol. We have a dedicated patio for Qdoba's east end-cap/corner and we have a common center patio located on the west side of Lenscrafters … where we have installed a very unique patio structure with custom-made steel benches along with burying my grandfather's relative's orange tractor.
We built this structure out of ICF – insulated concrete forms. As we have been studying and learning about construction, building, ownership over the last few years, we wanted to build a structure that we felt would give us, the owners, something of added value in many many years of owning the structure. We also believe we are building what I call "smart green" building envelope because not only are our walls concrete with polystyrene as insulation but we also installed a concrete roof deck coupled with LiteDeck, another foam product that in much of it's product is 12″ to 14″ of styrofoam.
Currently our retail space has 1 or 2 vacancies and our current tenants are as follows:
Lenscrafters
Qdoba Mexican Grill
Great Clips
Jersey Mike's Subs
Crumbl Cookies
Leasing / Tenant Inquiry:
Chris Hipps at Direct Retail Partners
Phone: 214.979.3346
Available Space Details:
660 SW 19th – Fritts Farm Marketing PDF